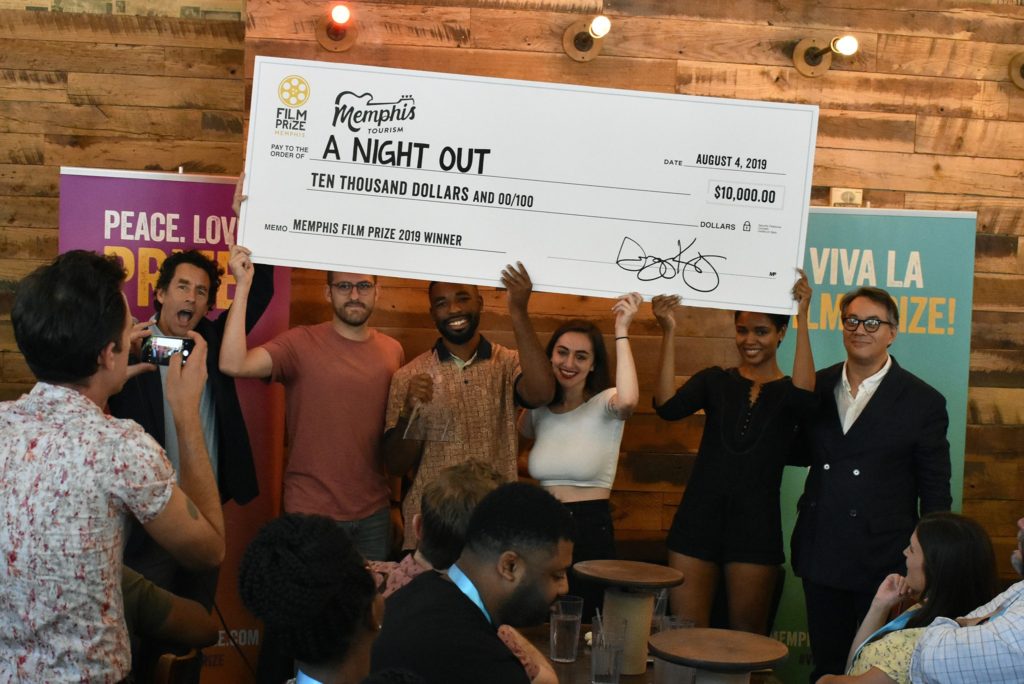 The winner of the 4th annual Memphis Film Prize was announced at an entertaining and celebratory brunch at Aldo's Pizza Pies in downtown Memphis (100 S. Main Street) held on Sunday, August 4th. Film Prize's coveted top award of $10,000 cash – determined by the festival audience and film judges – went to A NIGHT OUT directed by Abby Meyers and Kevin Brooks. Best Performance Awards went to HANGRY's Percy Bradley (directed by Clint Till)  and PAGES' Latresia D Bobo (directed by Arnold Edwards II).
"The Memphis Film Prize took a massive leap this year towards our goal of being one of the most important film competitions and essential catalysts for independent film production in the nation," said Gregory Kallenberg, founder and executive director of the Film Prize Foundation. "We are so proud of our talented filmmakers and of the spirited attendees from this year's Film Prize, and we are looking forward to coming back next year and being bigger, better, and burning brighter than ever!"
Meyers and Brooks' A NIGHT OUT is an emotionally devastating drama about a young woman, who seeks to forget about a troublesome relationship by going to a party with girlfriends. Unfortunately, while at the party she is approached by someone who preys upon her. The film's story was driven by Meyers, who teamed with Brooks, last year's winner for the film, LAST DAY, to craft a short film that was both deeply affecting, led by Rosalyn Ross's lead performance, and visually arresting (with cinematography by Andrew Trent Fleming).
New to Memphis Film Prize categories for Best Performance which are determined entirely by audience vote. Percy Bradley, who starred in Clint Till's HANGRY as a reverend who deals with the disappointment of the food served to him at a retirement home by attempting to procure a more appetizing meal, entertained audiences with one of the few purely comedic performances in the competition. Those same audiences connected deeply with Latresia D. Bobo's performance in Arnold Edwards II's heartfelt drama about two neighbors contemplating a way out as they deal with losses in their lives. Bobo, a mother of four, revealed during her acceptance speech that she had started her journey with Memphis Film Prize as a festival the first year in 2016. She would then appear as an extra and then an actor in subsequent years, leading to her award-winning performance this year in PAGES. Both acting awards included cash prizes of $250.
Judging for the Film Prize competitions is handled differently from other festivals. Instead of convening to collectively decide a winner, judges vote individually. The judges votes account for 50% of the vote and the remaining half is determined by audience. Both groups are required to see all ten films in competition before being permitted to vote. The judges for this year's Memphis Film Prize were comprised of independent film producers, writers and directors, including Kevin Arbouet (BENJI THE DOVE), Milan Chakraborty (ASSASSINATION NATION, MY FRIEND DAHMER, THE LIFEGUARD), and Melodie Sisk (THE DEATH OF DICK LONG, LITTLE SISTER), as well as film journalists from across the country – all members of the Alliance of Women Film Journalists, including Sarah Knight Adamson (RogerEbert.com/Naperville Magazine), Brandy McDonnell (The Daily Oklahoman/NewsOK.com), Lynn Venhaus (McClatchy/Bellville News Democrat).
For the fourth consecutive year, Memphis Film Prize continued to swell with larger than ever attendance numbers, increasing substantially from the 2018. In addition, submissions from both locally-based filmmakers and teams from across the country travelling to Memphis and Shelby County to shoot their projects – a requirement to compete – nearly doubled from last year.
Organizers have confirmed that Memphis Film Prize will return in 2020. Information about the beginning of next year's competition will be announced later this year.