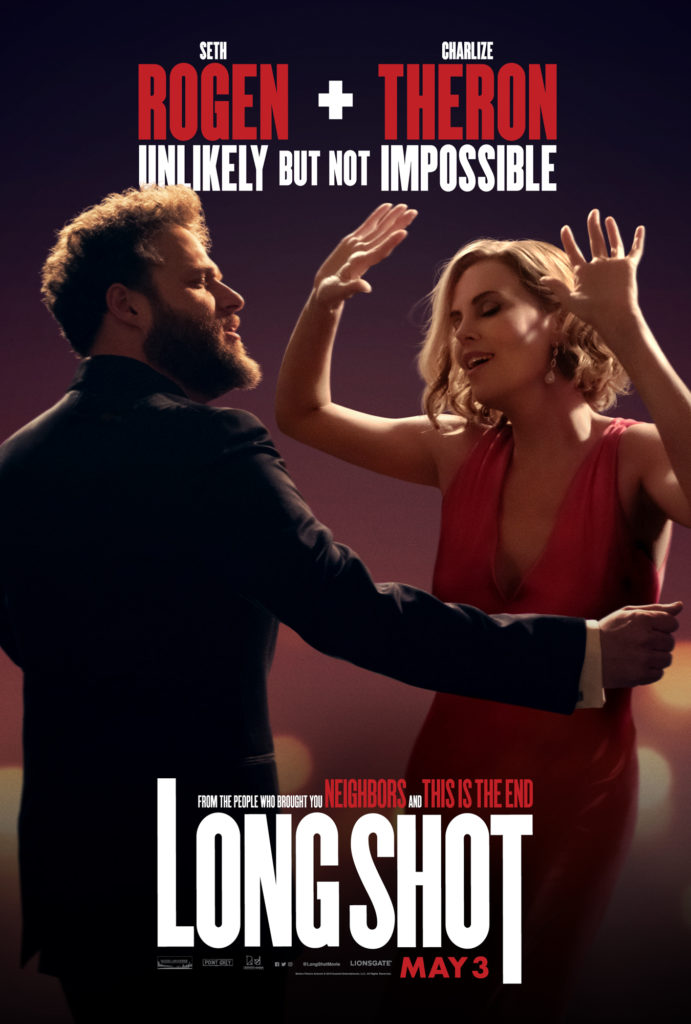 LONG SHOT – A Review by Cynthia Flores
Long Shot is a fantasy for every "regular guy" who has ever been crushing on that great looking woman who is way out of his league.  "If she got to know me she might fall for me."  What I love about this film is that not only is the beautiful woman in question smart, she's powerful as well.
Long Shot tells the story of Fred Flarsky (Seth Rogen) who is a talented extremely liberal journalist who will do anything to get the story.  When we first meet him has quit his job for a small liberal paper.   It has been bought out by a liberal right-wing mogul named Parker Wembley (Andy Serkis) who embodies everything that is wrong with the world today.  Fred meets Parker and tells him off at a high-class party that his wealthy best friend Lance (O'Shea Jackson Jr.) takes him too.  At the party, he reconnects with his first crush and old babysitter Charlotte Field (Charlize Theron), now Secretary of State of the United States and hopeful presidential candidate.  She remembers what a sweet and smart guy Fred was back then.  After a disastrous exit from the party by Fred, Charlotte decides to try something new.  She has a plan to get 100 nations to back an initiative to help save the resources of the planet and then to announce her run for office with the President's backing.  However, she needs a writer to help punch up her speeches and bring some humor to them, so she decides to give Fred the job.  Much to the chagrin of her uptight staffers Maggie (June Diane Raphael) and Tom (Ravi Patel) who hate how rough around the edges Fred is.  As they travel the world, Fred charms her with his self-deprecating humor and Charlotte starts to relax as they get closer and sparks begin to fly.
Long Shot ultimately works because the chemistry between Seth Rogen and Charlize Theron is natural.  The situations they are put in are hilarious but not too over the top.  Yes, there are lots of digs at the current administration in the oval office right now, but they are not the centerpiece of this film.  Instead, it's the romance between a guy falling for someone totally out of his league and a girl who desperately needs to remember why she even got into politics in the first place.  The music in this film is great, and Boyz II Men even make an appearance.  I can see the soundtrack being as popular as the film will be.  Other than what will become a much talked about "cum shot" this is really the cleanest film Seth Rogan has made in a while.
I loved Long Shot, it's a laugh out loud film, and I give it a solid A rating.
Directed by Jonathan Levine
Written by Dan Sterling, Liz Hannah,
Rated R
Selig Rating A
Running Time 2hr 5min
Comedy/Romance
Wide Release May 3rd
Starring: Charlize Theron, Seth Rogen, June Diane Raphael, O'Shea Jackson Jr., Ravi Patel
The Selig Rating Scale:
A – Excellent movie, well worth the price.
B – Good movie
C – OK movie
D – No need to rush. Save it for a rainy day.
F – Good that I saw it on the big screen but wish I hadn't paid for it.