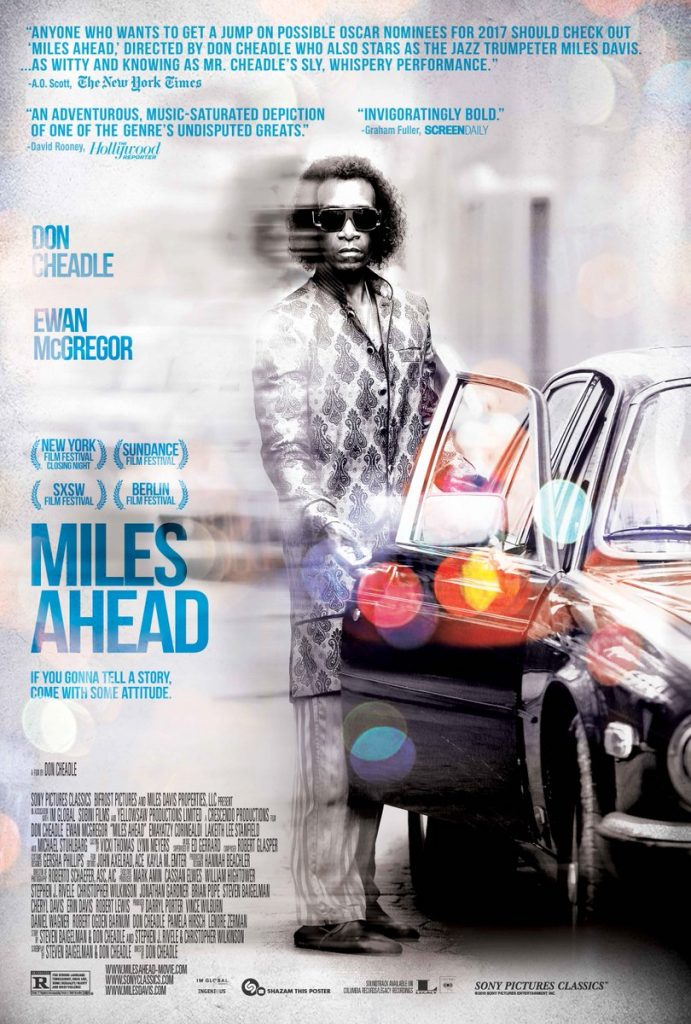 MILES AHEAD
By Gary Dizzy Behind Murray
Starring Don Cheadle, Ewan McGregor and Emayatzy Corinealdi
Written by Steven Baigelman and Don Cheadle
Directed by Don Cheadle
Running time 100 min
MPAA Rating R
Selig Film Rating Cable
Arguably, Miles Davis is considered the best trumpet player of his generation. Kind of Blue was to the 1950s what Frampton Comes Alive was to the 1970s—a recording that everyone seemed to own. At the time it was considered a standard and is still played on classic jazz radio stations. In an era that had many people behind the golden horn, he was at the top of the heap. But what of the actual man who produced so many recordings over a decades-long career? To answer that question is Miles Ahead.
The film opens in one of the more turbulent parts of his career, the 1970s. Miles (Don Cheadle) has been working on a new recording and fighting with his record label. He sees the new work not as jazz but as something more personal and larger. He has master tapes at home that no one has heard.
One day, on his door is Dave Brill (Ewan McGregor). He claims to be a Rolling Stone writer. Miles Davis immediately does not trust the reporter and wants nothing to do with him. But, the label has been trying to get his new recordings. Miles needs a ride and Dave has a car.
The two eventually bond. Throughout this challenge of drugs and groupies, we see glimpses of the entire career of Miles Davis. So much of it focuses on his relationship with Frances Taylor (Emayatzy Corinealdi). She is both a gorgeous woman and a talented jazz singer. The best scenes are of the two of them in their romance and their rocky marriage. Miles is also married to his mistress known as music and one cannot have two different women in his life.
We also see Miles recording and his touring, both are hard on his marriage and his life. Eventually due to the miles on the road and the drugs to keep going, everything in his life falls apart. By the time the 1970s happen, Miles is much more of a recluse drug addict than a titan of music.
Don Cheadle is just brilliant as an actor playing Miles Davis. He shows the man at very different parts of his career and the audience is never lost in the mix. This is easily one of the best performances of 2016. It is just amazing to watch him act as a real-life, larger than life character.
The problem is with Don Cheadle the director and Don Cheadle the writer. The story is told going back and forth between different parts of the career and it just simply didn't work. By using this technique, the audience is lost at times. It probably would have worked better by starting toward the end and then taking the film in chronicle order. The only way to tell where we are in Miles' career is by looking at his every changing hair.
But as a director Don Cheadle is over his head. Time and time again, the audience is given an art house telling of the tale with flourishes that just do not work. An example–in one scene Miles goes to confront a man who has stolen his master tapes. This happens at a boxing match. While Miles wails on the man with his fists, a younger Miles is in the boxing ring playing trumpet. It is a fancy way to make a point but it does not work.
Ewan McGregor is kind of a waste in Miles Ahead. He is supposed to be our eyes to the feature but he just comes across as a hanger-on. While he is a part of the problem with losing the master tapes, he is also the guy who pushes Miles out into the public. But, the actor brings nothing to the actual reading of the role.
Emayatzy Corinealdi is just brilliant as Frances Taylor. She is in love with a man who loves something more than her. Her heartbreak comes across the screen in a strong manner. The film would have been more interesting to focus more on their relationship than the chase of master tapes. Every time she is on the screen, the film just lights up. Everyone wants more of her and is disappointed by the fact she is not in the movie more than she is.
I played trumpet through to my college years. I was a good enough player for those times but I knew I hit my ceiling. I enjoyed all my years in jazz big bands and symphonic concert groups. I am more of a Dizzy Gillespie/Al Hirt/Jonas Jones kind of guy. I got into Miles later in his career and thought he just didn't play that well. Later in life, I went back and discovered what a talent was wasted. This film seems to focus more on the wasted talent than the true talent.