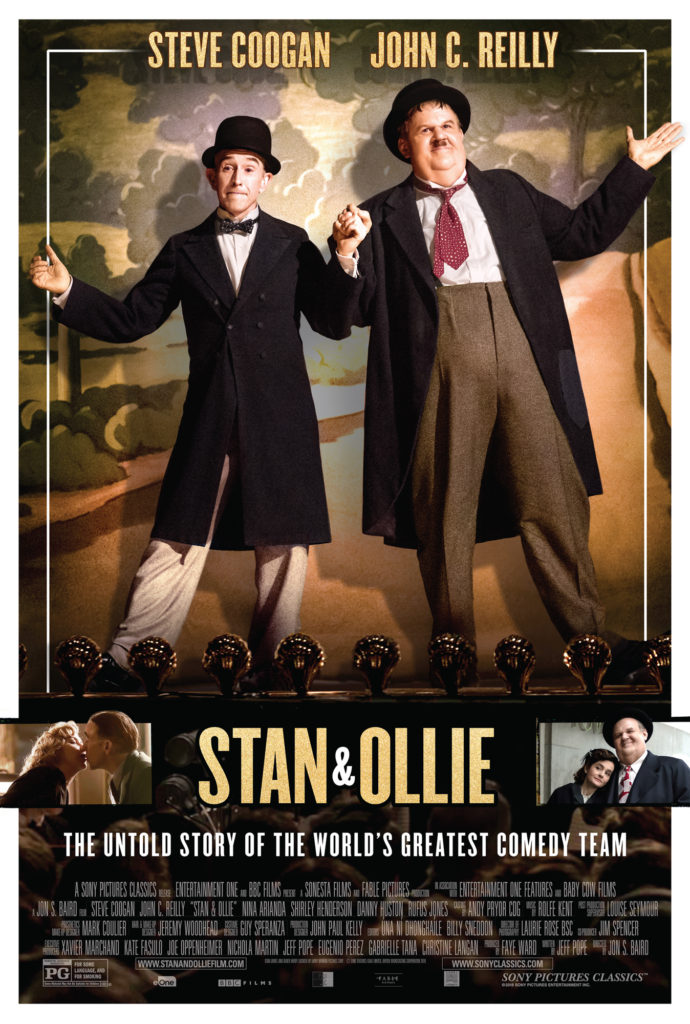 STAN & OLLIE – A Review by Cynthia Flores
Laurel and Hardy are the iconic and legendary comedy team from the 1930s.  They came before the likes of Abbot and Costello and were world famous.  The movie Stan & Ollie takes us behind the scenes to see the tender and sometimes strained relationship between the British lithe Stan Laurel (Steve Coogan) and his portly American partner Oliver Hardy (John C. Reilly).
The film begins at the height of their career when Stan decides to stand up for himself and demand more money from director Hal Roach (Danny Huston) who was the person that put the team together and helped make them famous on film.  However, it was Stan who wrote all the scripts and bits that made them funny.  While they were well-compensated for their success, the flat wage Roach paid them meant that the duo wouldn't enjoy the lucrative stream of global residuals.  And their films played all over.  So when Oliver chickens out and doesn't walk off the set with Stan, the decision leaves him high and dry at another studio that wants to sign the two as a team only.
Fast forward several years to 1953 where because both men are in desperate financial straits, they attempt to reignite their film careers as Laurel and Hardy by getting back into the limelight.  They embark on a grueling live theater tour of post-war Britain in the hopes of getting funding for their next film.  We see them work through their issues as they perform classic bits, at first to half-empty crowds but then to sold-out theaters.
Ultimately this new film Stan & Ollie is more than just a biopic it's really a love story.  We get to see the love between two old friends and the love for their art form which made the world whole world laugh.  John C. Reilly and Steve Coogan do some of their best work bringing these men to life.  I want all the fans of Laurel and Hardy to make a point of seeing this great film.  And I also hope the exposure will lead to a new generation of people checking out the classic films that these two men gave to the world.  I give this movie a solid A+ rating.
Directed by Jon S. Baird
Written By Jeff Pope
Rated PG
Selig Rating A+
Running Time 1hr 37min
Biopic/ Drama / Comedy
Wide Release January 25th
Starring: John C. Reilly, Steve Coogan, Shirley Henderson, Stephanie Hyam
The Selig Rating Scale:
A – Excellent movie, well worth the price.
B – Good movie
C – OK movie
D – No need to rush. Save it for a rainy day.
F – Good that I saw it on the big screen but wish I hadn't paid for it.