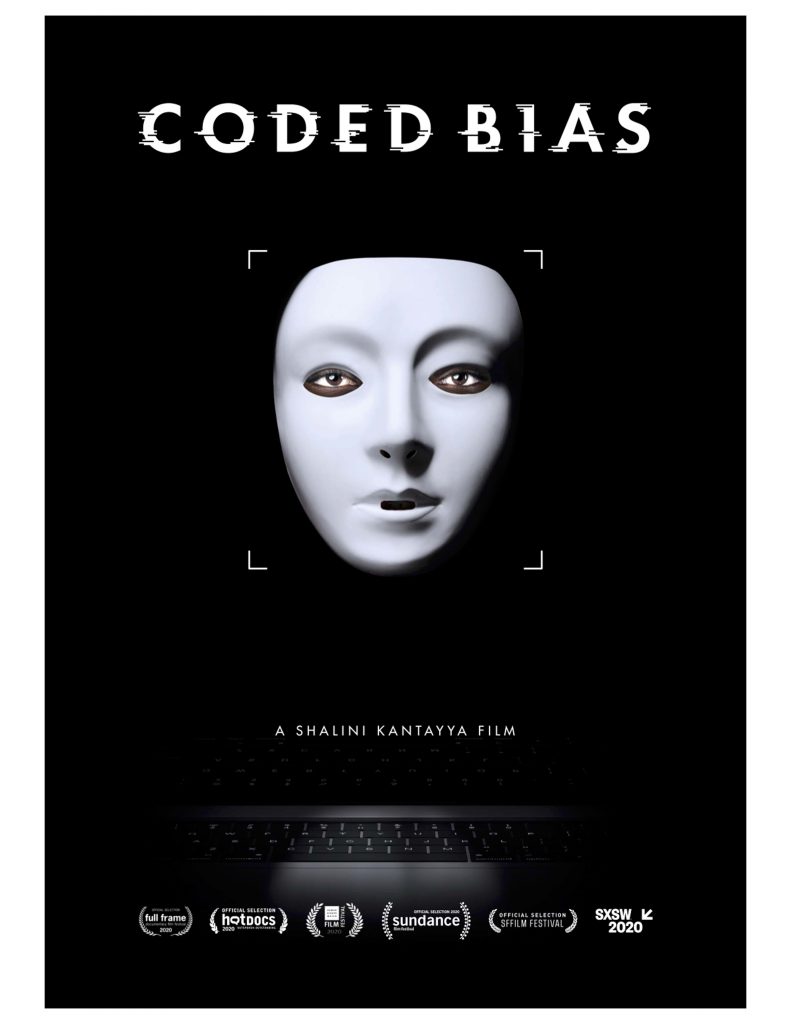 CODED BIAS – A Review by Cynthia Flores
Okay, for all you paranoid people that think you're being watched, this documentary proves you might be right. The new documentary Coded Bias by director Shalini Kantayya takes us to this digital revolution's front lines. Unfortunately for us, new technology doesn't seem to be leading to a progressive place or making life much better for all. As the French would say, au contraire. According to this film, bias and prejudice have been baked into the algorithms' code for artificial intelligence (AI). Perhaps not intentionally, but it's curious that it favors white men over everyone else. And that the ones who wrote the code are mostly white men.
Coded Bias shows the fallout of research from MIT Media Lab researcher Joy Buolamwini. Her startling discovery of racial bias in facial recognition algorithms put a spotlight on an unseen defect. When she tried to create an Aspire Mirror that would superimpose a famous person's face over yours telling you inspiring quotes, she ran into problems. The facial recognition algorithms did not detect Joy's very dark and beautiful face. However, once she placed a white face mask on, it kicked in as programmed. She knew something was wrong. This would lead her and her team to uncover that facial recognition systems were extremely flawed and skewed against women, people of color, and other races.
The documentary asks the daunting question, "What does it mean when artificial intelligence increasingly governs our liberties?" If you are in a group of people that it's biased against, can you fight back? As humans increasingly outsource decision making to machines, algorithms already decide who gets hired, who gets healthcare care, and who gets undue police security. The film deftly proves that artificial intelligence is not neutral and in need of governmental oversight. Led by a group of women consisting of misfits, women mathematicians, and data scientists who call themselves "The Algorithmic Justice League," they bring attention to this significant issue. They are leading the fight for ethical use and oversight of the technologies of the future.
The reason Coded Bias works as a film is due to its ability to present enormously complex subjects like artificial intelligence, mathematical algorithms, and ethical debates in an entertaining and fact-based manner. The film thankfully stays away from hyperbole or flashy graphics and music. Instead, Kantayya lets the facts speak for themselves. Scaring the hell out of us all.
I give Coded Bias a 4.5-star rating. It's a must-see wake-up call into the workings of the machine we are facing now.
Directed by: Shalini Kantayya
Written by:  Shalini Kantayya
Rated: NR
Selig Rating: 4.5 Stars
Running Time: 1hr 30min
Documentary
Limited Release: November 20th in Texas, VOD??
Starring: Meredith Broussard, Joy Buolamwini, Silkie Carlo
The Selig Rating Scale:
5 Stars – Excellent movie, well worth the price.
4 Stars – Good movie
3 Stars – OK movie
2 Stars – No need to rush. Save it for a rainy day.
1 Star – Good that I saw it on the big screen but wish I hadn't paid for it.