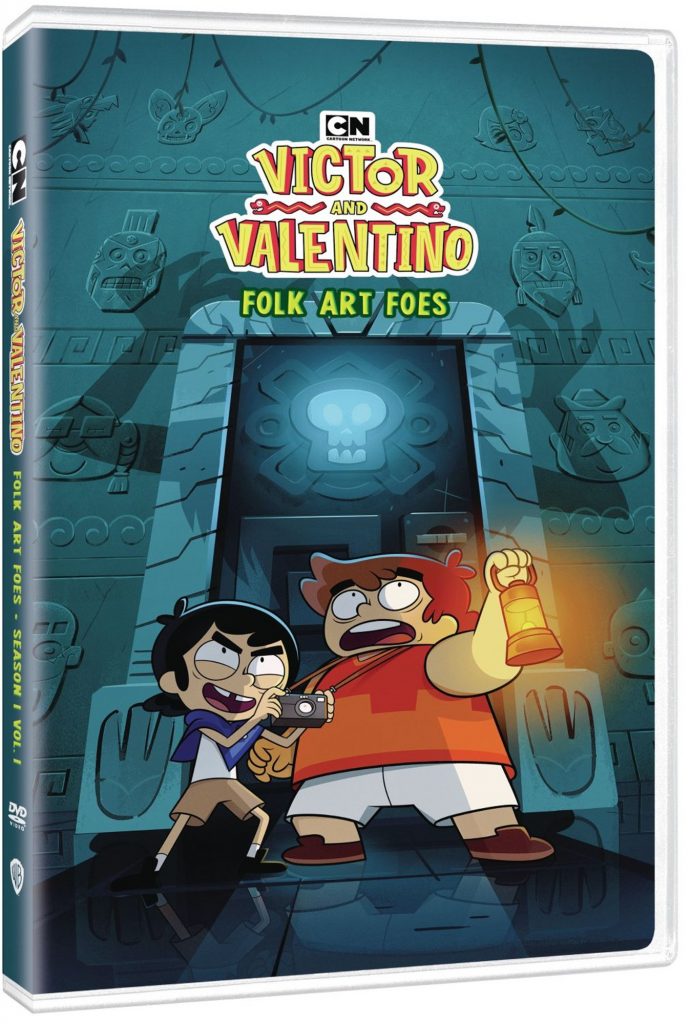 VICTOR AND VALENTINO: FOLK ART FOES – A DVD Review by John Strange
Warner Bros. Home Entertainment provided me with a free copy of the Blu-raytm I reviewed in this Blog Post.  The opinions I share are my own.
Victor and Valentino: Folk Art Foes Season 1 Volume 1 is a cartoon show currently playing on the Cartoon Network, aimed at children.  Set in the town of Monte Macabre, the series Is the creation of Diego Molano.  The seed of the idea behind the show, described as a "spotlight on Aztec, Olmec and Maya mythologies", came to Molano during his time at Maryland Institute College of Art.  Originally it was part of a video game.
The show revolves around brothers Victor and Valentino (voiced by Diego Molano and Sean-Ryan Petersen, respectively) who are living with their Abuela Chata (Abuela translates to grandmother).  The two boys are constantly getting into situations that are supernatural in nature and escaping by learning a lesson.
The residents of the town are nice, but all are a bit strange, some more so than others.  The stories are varied but all have at their heart, the two boys.  Victor, totally amoral (think bugs bunny), is the true cause of most of their problems.  Valentino is his accomplice, as often as not just as guilty as his brother.
The nature of the show's supernatural bad guys will likely scare the very young children.  I think the older kids will enjoy the imagination shown by creator/writer Molano.  For me, and I think, most adults, watching an episode or two is doable.  Binging as I had to for this review, can be painful.
For the older kids, this is a 4-star show.  For the younger kids and most adults, this is a 2-star show.  Parents, let the older kids watch it without you.  They'll learn lessons on life in a way that they will probably enjoy.  And you won't go nuts as they watch episode after episode.
Created By:
Cast:
Diego Molano, Sean-Ryan Petersen, Laura Patalano
Episodes:
Folk Art Foes
Dead Ringer
Brotherly Love
Chata's Quinta Quinceañera
Legend of the Hidden Skate Park
Cleaning Day
The Babysitter
Hurricane Chata
Lonely Haunts Club
Suerte
The Dark Room
The Collector
The Boy Who Cried Lechuza
Boss for a Day
Cuddle Monster
Los Cadejos
It Grows
Welcome to the Underworld
Extras:
DVD:
Specifications:
Runtime:
Total:
Studio:
Warner Bros. Home Entertainment Inc.
Release Date:
Region:
A/1 (U.S. and Canada only)
MPAA Rating:
Selig Rating:
Film Rating:
4 Stars (Kids) / 2 Stars (Adults)
Bonus Features Rating:
Picture Quality Rating:
Audio Quality Rating:
Trailer:
Selig Rating Scale:
5 Stars: Should add to your DVD collection at any cost
4 Stars: Worth owning, but try to catch it a sale
3 Stars: Plan to get it, but wait to buy it used
2 Stars: Worth taking a look at, but not owning
1 Star: Pick it up at a garage sale and use it for drinks
0 Stars: Makes a great Trap Shooting target