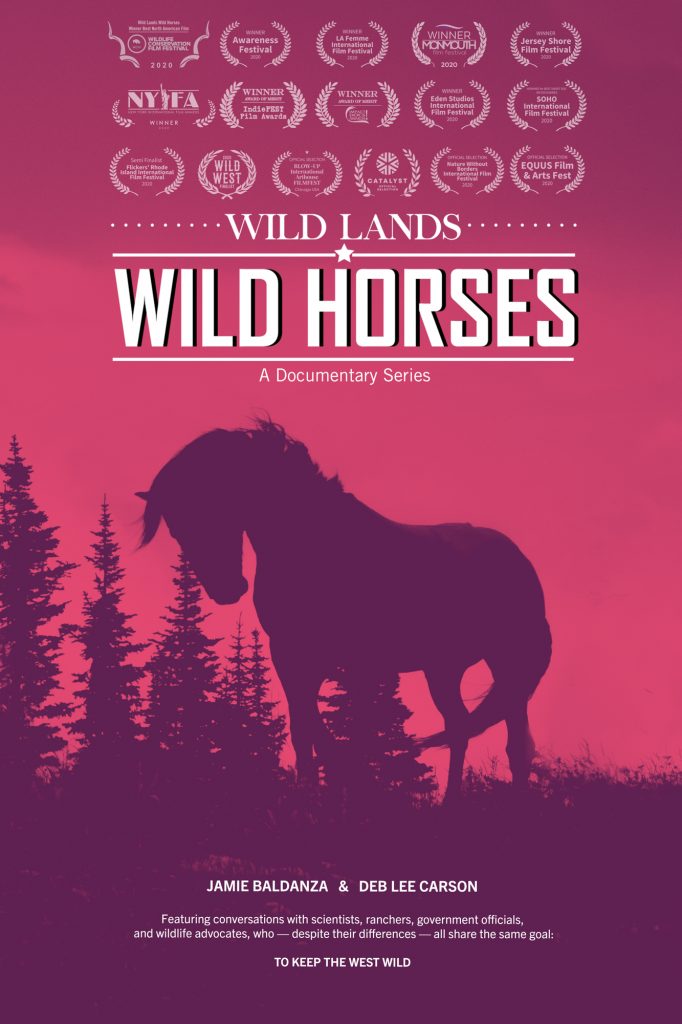 WILD LANDS WILD HORSES – A Review by John Strange
I get asked to watch TV pilots occasionally.  Some are good, some are bad, and a very few are excellent.  Wild Lands Wild Horses is new documentary series working to get funding and distribution. 
Their pilot episode was presented to a small audience virtually.  It was presented complete with a live Q&A by the two ladies who had the inspiration and star in the show moderated by one of the series producers, Gabi Faye.
This series will be following wildlife photographers Jamie Baldanza and Deb Lee Carson, their mission is to "document America's most elusive herds of wild horses and examine their politically complicated lives."
I was prepared to watch a show filled with to horse lovers slant the show to suit their personal feelings and narrative.  What I found made me smile and sit back in my chair to fully enjoy this experience. 
Despite any personal feelings they may have toward the horses and their plight, these ladies and their crew worked very hard to show all sides of the question.  In pursuit of this, they talk to BLM personnel, ranchers, horse advocates, scientists, wildlife advocates and others who work with the wild horses and HMAs (Horse Management Areas).
For the first show, they explored the Twin Peaks HMA which in northern California and straddles the Nevada border.  It is huge at 758,128 acres and includes a wide range of terrain and horse breeds.  The area also has burros (and mules) and several different species of deer and antelopes.
The cinematography for this show is excellent, as is the editing.  The story, as presented by the hosts, flows well and keeps the audience enthralled while we learn about all these magnificent animals.
Based on the Q&A, there will be 12 episodes that will move from one state to another, one HMA to another.  They are looking to find a network to help defray costs and give their show a platform to access the public.  They have also set up a fund to help out wild horse and burro causes.  The fund is called "Wild Lands Wild Horses Fund".  You can find out more about this fund at: https://www.thismustanglife.com/wlwh-fund.
This is a show that I REALLY want to see get a chance to make it!  It is the type of show I love to find.  I hope they succeed in their pursuit and grant us a show we can all watch and learn from!
Director: Jamie Baldanza
Cast: Jamie Baldanza, Deb Lee Carson
MPAA Rating: NR
Selig Rating: 5 Stars
Runtime: 53 Min.
Movie Site: WILD LANDS WILD HORSES Official Site
Trailer: WILD LANDS WILD HORSES Trailer
The Selig Rating Scale:
5 Stars – Excellent movie, well worth the price.
4 Stars – Good movie
3 Stars – OK movie
2 Stars – No need to rush. Save it for a rainy day.
1 Star – Good that I saw it on the big screen but wish I hadn't paid for it.