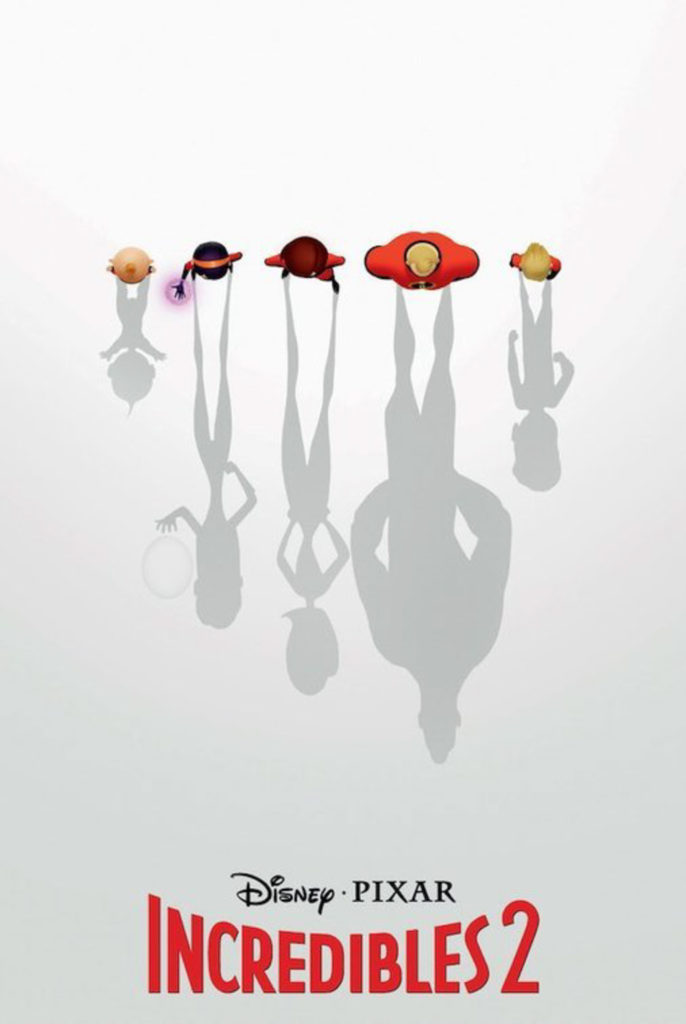 INCREDIBLES 2 – A Review by John Strange
In 2004, I watched an animated film that grabbed me and gave me a thoroughly excellent afternoon. That film was The Incredibles, also helmed by Brad Bird. Recently, I was invited to watch the sequel to that movie, Incredibles 2. The new film also stars the voice talents of Craig T. Nelson (Bob Parr / Mr. Incredible), Holly Hunter (Helen Parr / Elastigirl), Sarah Vowell (Violet Parr), and Huck Milner (Dashiell Parr aka Dash).
The Parr family are all endowed with super powers. The parents, Bob and Helen, have to make a tough decision following their removal from the "Super Relocation" program when politicians decide the damage done by the supers is worse than the damage done by the villains. They are saved from having to make that decison when Winston Deavor (Bob Odenkirk), a rich super fan, comes to them with a job offer.
The film takes a turn here, at least as far as Bob is concerned. Deavor doesn't want to put Mr. Incredible back into the "super" business, he wants Elastigirl! This gives us a woman who is extremely able to do the job and enhanced with the tools provided by Winston's sister, Evelyn (Catherine Keener), a genius inventor who supplies to toys that their company, Devtech,, markets.
Elastigirl quickly meets a new nemesis, Screenslaver. Screenslaver proves to be a tough competitor but is finally stopped by our heroine. But is that the end of it or is there something fishy going on?
In the meantime, Mr. Incredible has become a house dad, dealing with not only the two older kids but the baby, Jack-Jack (Eli Fucile). Like the first steps of a baby, the first signs of a super power are eagerly anticipated by the parents of a "super". Like any father who has not been in the shoes of new father, Bob has his gargantuan task grow exponentially when he has to deal with Jack-Jack's emerging powers. He only thought it was a tough job raising Violet and Dash. Jack-Jack's abilities would try a saint.
Only Edna Mode (Brad Bird) takes the powers in stride. In fact, she falls head-over-heels for the youngster, designing him his first super-suit when he stays overnight with her.
This film blends the drama of a spy movie, the action of a superhero movie, and the heart of a family movie. Brad Bird pushed to get the chance to make a second film which could continue the story but at the same time distinguish it from other films in the genre. In this goal, he succeeded. Incredibles 2 is a well made film that is a joy to watch. The action is well designed and executed. The humor fits the story extremely well.
This is a film the whole family will enjoy. The adults will see humor in some situations that the kids may miss but that's okay because everyone will enjoy the overall film. I give this film our highest mark, an A+. It hits on all levels.
Directed by: Brad Bird
Cast: Craig T. Nelson, Holly Hunter, Sarah Vowell, Huck Milner, Catherine Keener, Eli Fucile, Bob Odenkirk, Samuel L. Jackson, Michael Bird, Sophia Bush, Brad Bird
MPAA Rating: PG (for action sequences and some brief mild language.)
Selig Rating: A+
Runtime: 118 Min.
The Selig Rating Scale:
A – Excellent movie, well worth the price.
B – Good movie
C – OK movie
D – No need to rush. Save it for a rainy day.
F – Good that I saw it on the big screen but wish I hadn't paid for it.